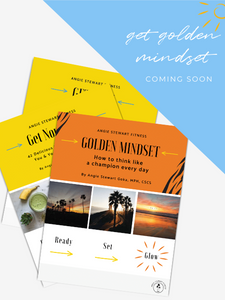 Angie Stewart Fitness
Get Golden Mindset
Regular price
$ 49.99
Sale price
$ 79.99
Unit price
per
Get Golden Mindset is ONLY included in the Road to Awesome Bundle and Small Group Plan. This is the magic sauce if there is one. It's real-life powerful ways of how to think and act like a CHAMPION every single day.

You'll feel at ease with your daily dose of disciplined mindset knowing exactly how to slay your day with more freedom, joy + time rediscovered.
You'll get real-life, concrete ways to get your workout into your day, become more successful at home, at work, and at play.

You'll learn why taking care of yourself is not selfish. You'll learn where to start to crush bigger, more thrilling, jump-out-of-bed-each-morning goals.

You'll learn ASF's five word phrase that gets her and YOU moving on the double.

With this Golden, Champion Mindset, you'll yourself to join the winning circle and live with zero regrets  
What you'll receive: 
✰ daily doses of powerful positive ways, mantras, reflection + stories to build your golden life
✰ easy to follow navigation to think like a champion every day
✰ why motivation fades and discipline stays
✰ properly sequenced daily mindset to dismantle the natural pattern of weakness of the mind that arise when following any new life-changing program
✰ the 4-minute mile effect
✰ why you actually can
✰ weekly new themes, cues to action + how to make or break habits
✰ AND. SO. MUCH. MORE. 
---