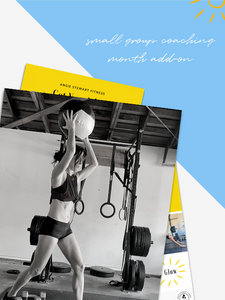 Angie Stewart Fitness
Small Group Coaching Month Add On
Regular price
$ 199.99
Sale price
$ 249.99
Unit price
per
Workout on your own time, but never alone! Get 4 weeks of Angie's individualized coaching on fitness, nutrition and champion mindset plus the powerful small group dynamic that holds you accountable. 
Already bought the Get Lean Workout and Nourishing Recipes Bundle and want to add yourself to a small group with Angie's personal coaching each day? Then add this to your cart. 

Already bought the bundle and small group coaching and want to continue with another small group guided by Angie? Then you are in the right place. 
Get in optimal shape with a small group of up to 10 like-minded women and Angie with her masterfully delivered coaching, personalized guidance, and unwavering encouragement (see testimonials).

Choose the next level of expertly crafted ASF workouts targeting strength, cardiovascular fitness, mobility and flexibility to continue to track and improve your progress. 

Participants typically improve body composition, conditioning, flexibility, mindset, lose weight and more. This program is ideal for women looking to increase fertility, get in ideal shape for pregnancy, improve health outcomes, decrease or eradicate medications, increase athletic performance, become a better mother, friend, wife, team mate, role model and reach untapped potential and unsung goals.
You'll feel like Angie is standing shoulder to shoulder with you every step of the way - because she is. (See Angie's ABOUT page to learn why & how she started the Road to Awesome & why she'll never give up on you.)
This program is so powerful, your life will never be the same. *Guaranteed.
Grab your friends and sign up now to ensure your slot. 
*Angie's 30 Day Guarantee - Angie stands 100% behind this program. If your body & life doesn't change for the better - confidence, weight if desired, body composition, attitude, health & more - and you adhere to the program as directed including group participation, then she'll happily refund your money. 
---